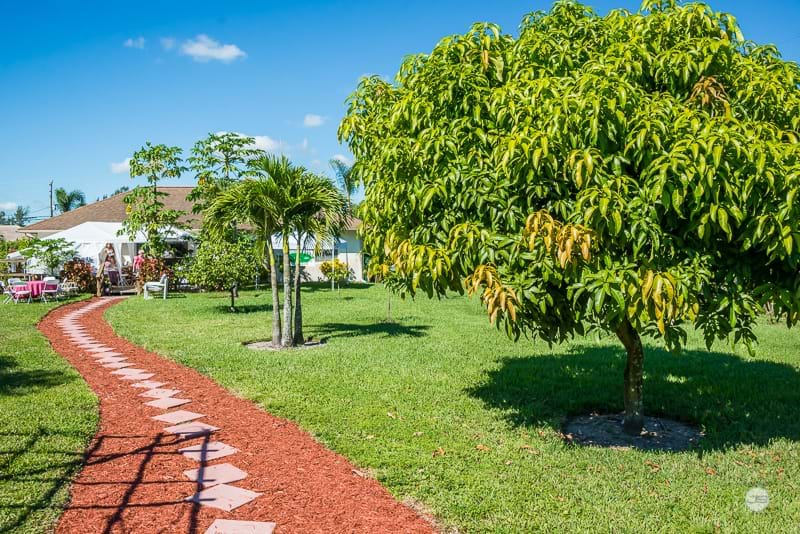 On behalf of our guests, employees, and family members, we would like to offer a special thanks to all those who have participated and contributed to our "Afternoon at the Greenhouse Event" that took place on Saturday, October 19th, 2013.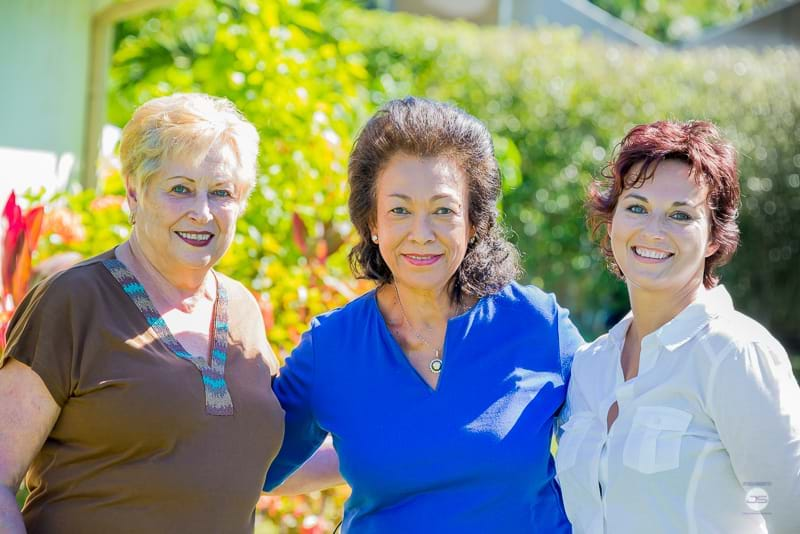 A special "Thank You" note goes to the following individuals:
Our incredible Staff and Friends, Baker Creek Heirloom Seeds, Bill De Renzo (Music and Entertainment), Dr. Keith Cini, Jason Marks & Team, Farmers Daughter's Market (Potted Flowers and Plants), Malakor Thai Restaurant, Lauren Quinn, Swank Hydroponic Farm (Salad Greens), Symon Family Chiropractic, Zainab Fisher & Nurse Tom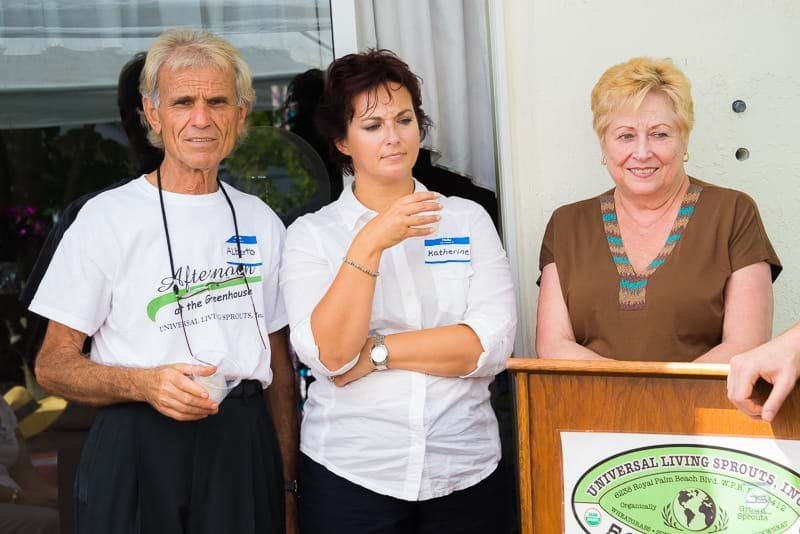 Our Afternoon at the Greenhouse was very successful; thirty guests enjoyed the wealth of information on nutrition and the benefits of living a healthy lifestyle through Juicing with organically farmed products, such as the products we produce at Universal Living Sprouts. Following the presentation, our guests enjoyed a healthy vegan meal, prepared by our staff, containing our Sprouts, Greens, and Dressing.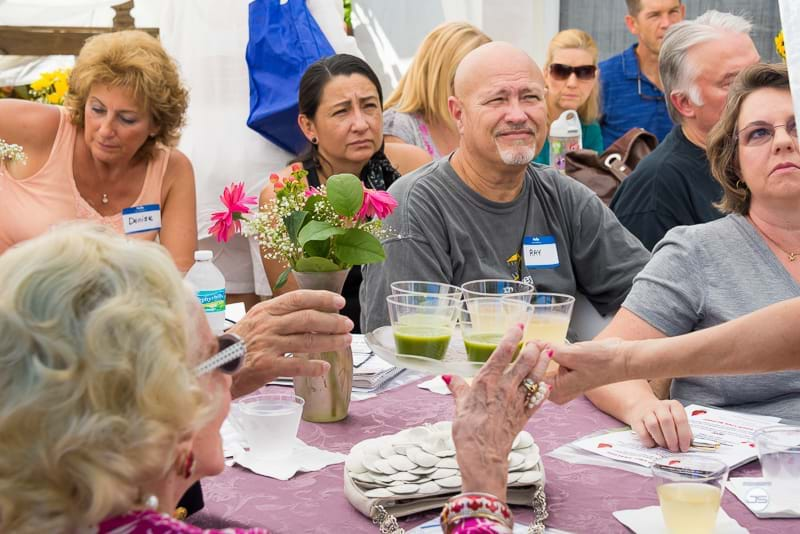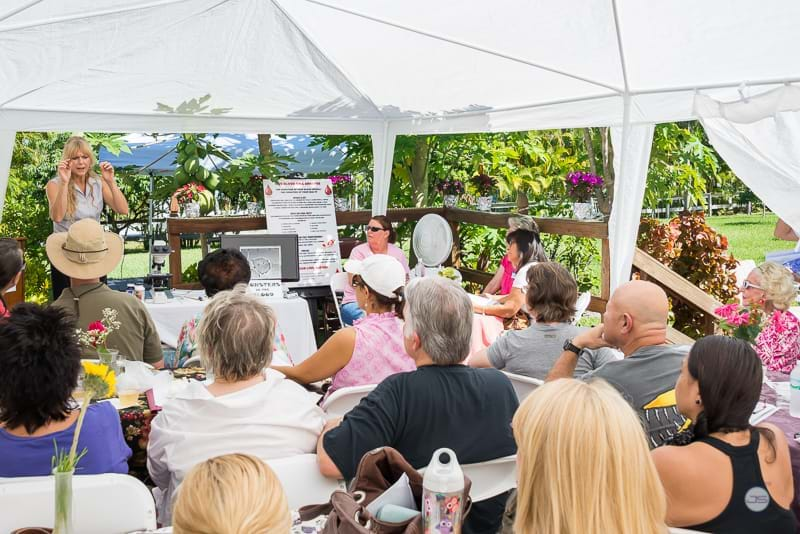 Our events of the day included a presentation on the benefits of Live Blood Cell Analysis with a demonstration that was followed by a Q&A.  Brightfield Microscopy Technician, Lauren Quinn, explained how the condition of blood reveals hidden health conditions that can harm the whole body.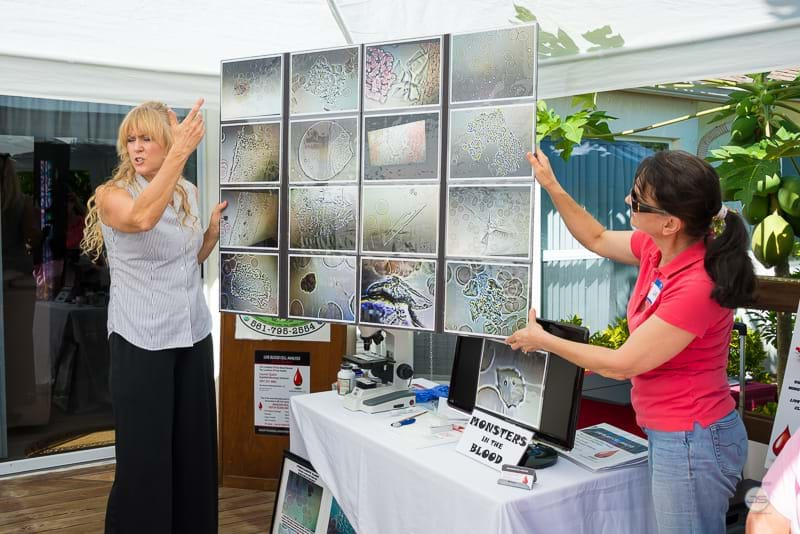 Several types of anomalies that are found in blood, such as Plaque, Uric Acid Crystals, Yeast, Free Radical Damages, Fungus, Liver Stress, Parasites, and many more, were revealed to the attendees.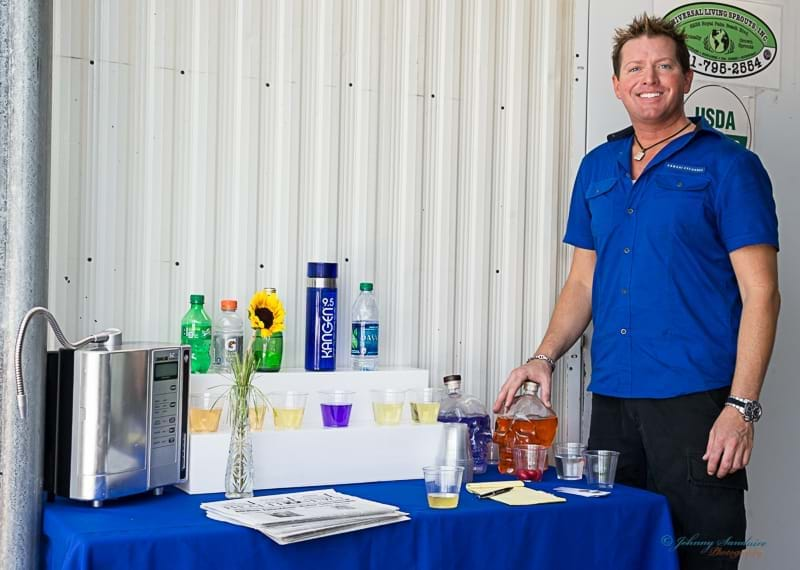 Water Pro, Jason Marks, presented a revealing demonstration of the unique properties of restructured alkaline ionized water and how it affects bodily functions.  According to the EWG (Environmental Working Group), there have been 315 pollutants found in America's Tap Water since 2004 and over 1/2 of these pollutants are completely unregulated and can legally exist in any amount.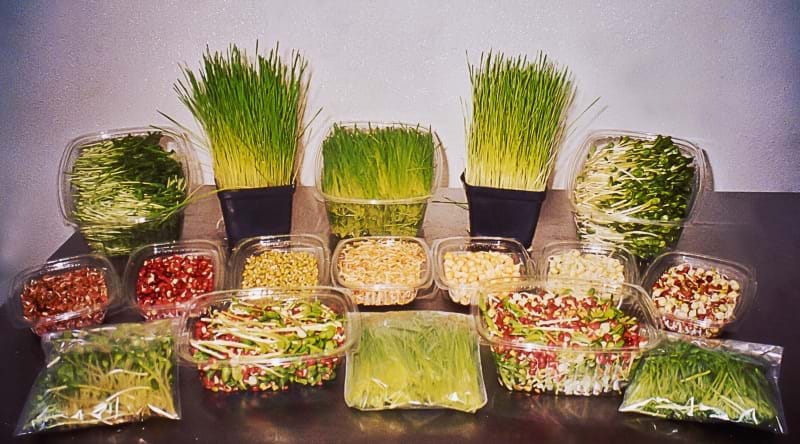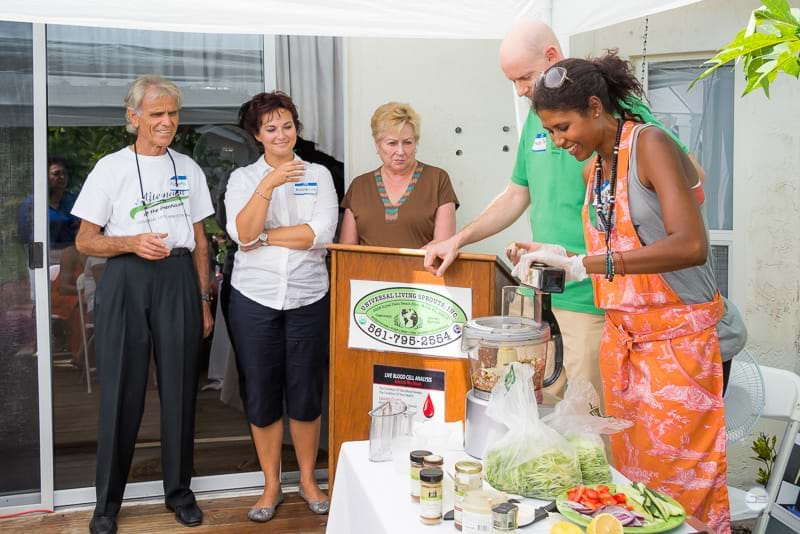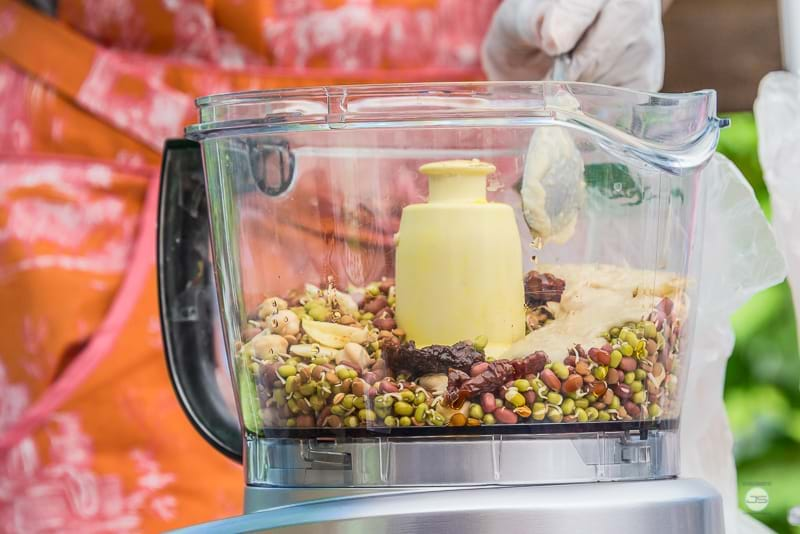 Zainab Fisher is a professional personal chef who specializes in teaching & preparing Vegan and Raw food cuisine demonstrated a few of her favorite recipes.  She works with clients from all over the United States, from celebrities to people with major health challenges.  She is also a Reiki Master.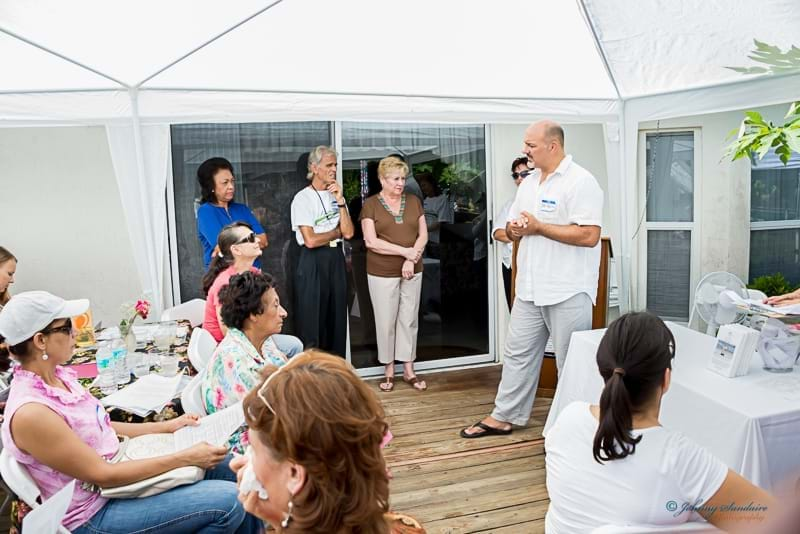 Dr. Keith Cini, AP, DOM, Acupuncture Physician and Doctor of Oriental Medicine, who is also certified in Tai Chi, is a practitioner of the healing & martial arts with over 25 years experience in conducting seminars and speaking engagements in Qigong (the Art and Skill of Working with one's own vital life force energy).
Qigong is a form of moving meditation that teaches us how to access our body's innate intelligence to heal.  Dr. Keith demonstrated a short series of Tai Chi that benefits joint loosening exercises to invigorate the body, the experience of deep abdominal breathing and peace of mind.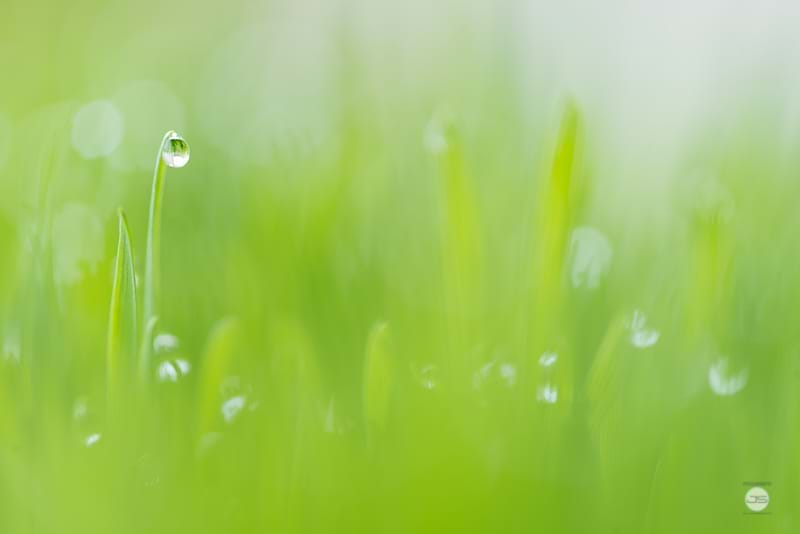 Dr. McNabb, a Holistic Chiropractic Physician, explained the missing link of good health.  He pointed out the importance of eating nutritious foods, drinking clean water, and breathing clean air, and how his best friend used this knowledge to cure himself of stage four (4) brain cancer.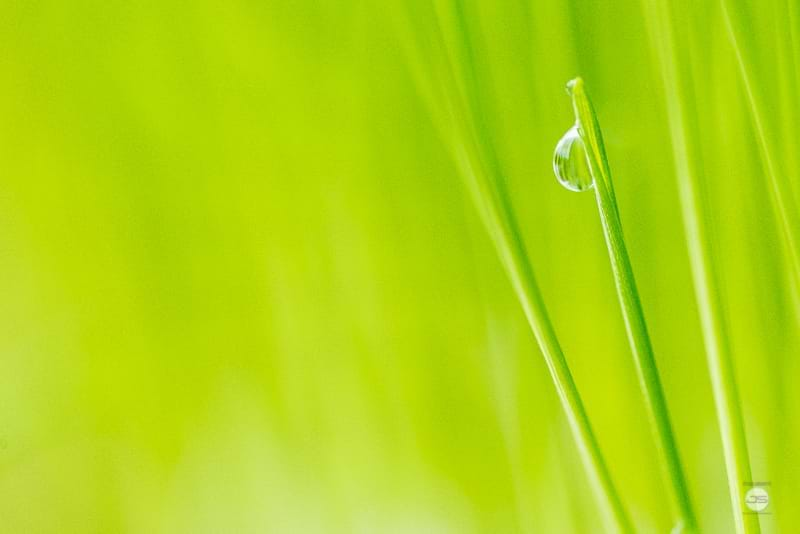 Listed below are feedbacks from some of our guests and other testimonies from ULS Customers who attended our recent event:
Hi,
This is Jayne.  I attended your seminar today. It was amazing and I thank you for a wonderful and enlightening day. This day, I know has been a turning point for me. It was meant for me to be there and I called this morning and talked to Alexia about coming by and learning more and to buy seeds. I had no idea you were having an event. She told me and there was a spot open to come.  Juicing is new to me and I got a great introduction to it today. Everyone there was so nice and all of the amazing foods were awesome. I live so close to you, on 82nd St. I'm coming over Monday morning to do some shopping!!!!  Thank you again for a great day.
Jayne.
---
Good afternoon!
Enjoyed the class Sat. The food was wonderful, learned alot. Thank u all for all your hard work putting it together.
Thank u!!
Denise
---
Hi Alberto,
Thank you for introducing me to an "alternative" way of thinking about health and well-being
Ron
---
Thank you for a beautiful event!!
Michelle
---
Hi,
it's Jayne Ford. Loved the website pics!  I'm so excited. I feel so much better since last weekend. It is amazing and I've lost 9 lbs of toxic fat! Yey.
Thank you,
Jayne
---
Barbara, Antonio;
I want to take the time to express my sincerest thank you for having me at
the very first 'Sprout Out'! I had a great time making new friends
and witnessing the great work you do first hand.
I want both of you to know that you have made a friend that will sing
your praises whenever and wherever I go. Your generosity was most
appreciated and I'm grateful.
The best of everything to you and if you get the chance, I'll be at Our Lady
on November 9, with your shirt on!
Thanks again
Bill D.
---
Barbara & Alberto, thank you for putting together this seminar about health and live foods, I was very glad and thank full for participating Saturday at your presentation.  Hope this is the first of many to come.
Thank you,
Ray & Irma
---
Hi,
Just wanted to say Thank You for an awesome day at the Greenhouse event.  We had a great time eating and meeting everyone and we learned so much and can't wait for the next event.  Will bring more friends too.
Thank you very much we really learned a lot and we'll see you soon to get our sprouts!!!!
Scott and Julie
---
I have a health issue that requires a steady supply of fresh, chlorophyll-rich sunflower sprouts, pea sprouts and wheatgrass, and I don't want to pay Whole Foods prices since I need so much of this stuff. I purchase 8-10 pounds of sprouts and wheatgrass from Universal Living Sprouts on a weekly basis, and pick up my sprouts at Juiceateria in Royal Palm Plaza. The sprouts are fresh, reasonably priced, and it's incredibly convenient for me to pick up my sprouts at a location in Boca Raton.
Garrin H.
---
Hello, I just wanted to tell you that I do not have any of my gluten intolerance symptoms as long as I eat a lot of your sprouts! I managed to eat 6 croissants in 1 day without symptoms, while I used (before eating your sprouts) to feel the symptoms with one candy!
Please feel free to use my testimony! I hope this will help other people!
Thank you for growing such "magic" food!
Thanks.
Anne Michelis
---
Thanks. Everything is great…I love your sprouts, and they arrive to me in great shape.
Thanks for providing these wonderful nutrients!
Nancy Miller
---
I know there are a lot of healthy smoothie recipes out there. But here is what I do with your sprouts for my teenagers who don't get enough veggies, and want a "bodybuilder shake"
my 13/15 yr old boys  used to hate all my Smoothies( They said I put to much stuff in), so we came to a happy https://app.fastshoppingcart.com/median that after they play sports they get this one !
Handful of your sprouts
2 frozen bananas
3 tbsp org hemp
Almond milk 1/2 cup
Org raw oatmeal 3 tbsp
Ice
Makes 25-28 oz's
Thanks,
Ken Gutman
---
I would like to also say something about my five year experience with ULS, it's been a long journey being a carrier of Hep. C virus for more than 35 yrs., multiple Hep. C treatments and being placed on a liver transplant list;  then being removed from the list due to improvement in liver function. Other than my faith in an all mighty God to keep me well, ULS has been second to none in my continued wellness. I would like to thank Alberto and his wonderful staff for all they do with all who come in contact with this health oriented company.
Your friends,
Richard and Janice
---
Good morning to all the great people of ULS.
I'm joyful to say that since we last stopped by, I sure I mentioned it I was on a new treatment for Hep. C that has just been introduced this year & after 8 weeks of a 12 week treatment I am virus free & all thanks to my Father in Heaven that kept me alive and well all these many years to finally be cured of this terrible virus. We know that God put Alberto in our lives for a special reason in staying healthy until the cure arrived.
Thank all & GBY. Richard & Janice,
P.S. we are also celebrating our 21st wedding anniversary, what a great great gift we've received.