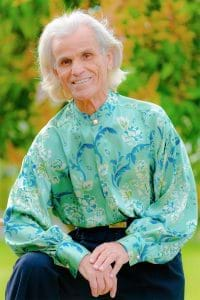 Alberto's passion for a healthy lifestyle began more than three decades ago after reading a book on the benefits of living a healthy lifestyle that he found at The Vatican, Italy. Equipped with this knowledge, he continued his education by attending nutritional seminars and participated in workshops, increasing his knowledge in botany and biology. Before long he started growing his own personal blend of Organic Greens on a basic and strategic scale for his neighbors, leading to serving the local health food stores. He will be remembered as a thinker and a survivor.
Universal Living Sprouts' growing techniques were awarded the FDA's Hazard Analysis & Critical Control Points (HACCP) accreditation as well as the USDA certified badge in organic farming. HACCP is a management system in which food safety is addressed through the analysis and control of biological, chemical, and physical hazards from raw material production, procurement, and handling, to manufacturing, distribution, and consumption of the finished product. Alberto applies his experience and expertise to the production of some of the most healthy, most nutrient-rich, organic, and life-giving sprouts in the continental United States, earning the title of producer of the sweetest wheatgrass on the planet! Our greenhouse facility is one of the most certified and respected organic produce distributors in the South Florida region. Alberto's team delivers the best Organic Wheatgrass, Sunflower Greens, Pea Greens, and Buckwheat Lettuce available! These nutritious and delicious Sprouts and Wheatgrass are available for pick-up or UPS-Shipped.
Our mission at Universal Living Sprouts is simple: to provide the best products to our customers at the lowest prices possible! We take great pride in our growing process, our commitment to customer service, and in the products we sell. Our online store is designed to provide you with a safe and secure environment to browse and purchase from our product catalog.
Please call 1-561-795-2554 or drop an email to provide your feedback and personal experience with our products, as well as your recommendations on how we can better serve your organic produce needs. We are looking forward to hearing your testimonials.
Our greenhouse is conveniently located in the Acreage western communities of West Palm Beach, Florida. We are open to the public on Monday – Friday from 8-4 and on Saturdays from 8:30-2. Stop by and say hello!